Whether it's a match day or a practice session, a backpack is probably one of the best companions of every softball player. A compact, comfortable bag relieves you from worrying about your personal belongings while you are on the field.
To take the best possible preparations for the big match, you always would love to carry all your gear to the ground. A solid backpack can boost your confidence and create a positive impression of yourself to your team members, opponents, and spectators. 
That is why before deciding to buy any softball bag, you should consider at least two factors. The first one is, "Is the bag large enough to provide space for all my sports gear and accessories?"
You'd love to have a look at the inside space, pockets, helmet holder, shoe space, and other facilities for keeping your gear safe.
The second one is, "Will the bag be comfortable enough for carrying? What materials are there for providing ultimate comfort and preventing any injury occurring from the bag?"
Considering all these things, I found the Top 10 Best Equipment Bags for Baseball & Softball. They have everything to satisfy your needs and organize your things.
Let's Get Through The 10 Best Softball Bags
All 10 softball bags are well-versed to become your daily backpack. They all have enough space and quality according to their price. Players across the world have been using these softball bags for years.
Let's move on with the top 10 softball bags.
1. Easton Walk-Off IV Backpack

Specifications:
420-Denier Polyester Ripstop and Reversed 600-Denier Polyester.
Dedicated helmet holder.
Fence hook.
Vented cleat compartment.
Did you ever think of providing your bags a little bit more safety while carrying? How about some extra space for your equipment? Seems exciting, right? Easton Walk-Off Backpack has some astonishing features that will surely make you fall in love with the backpack.
A notable side of this backpack is two sleeves for bats, including personalized zippered pockets, ensuring a bit more safety for you. An additional benefit of this backpack is that its helmet holder is placed outside, which is why you can get lots of space inside.
Bag Space
A fence hook will allow you to easily access and organize your softball materials in the dugout. A separate vented cleat compartment will ensure that your shoes are dry and divided from other necessary gears in the main compartment. 
Comfort
Both back and shoulder straps are padded to make carrying easier and more comfortable. It's also lightweight.
Pros
Dedicated space for team embroidery externally.
A dual zipper design and fence hooks will make the backpack more organized. 
Ease of carrying in and out of the field.
2. Rawlings R1000 Equipment Bag

Specifications
Main compartment.
Glove crip.
Fleece-lined pockets.
Dedicated shoe storage. 
If you are desperately searching for a solid and large backpack on which you can carry all your essential things on the field, then Rawlings R1000 Equipment Bag can be a good option to bet on.
One of the most amazing features is its multiple fleece-lined pockets in a valet tray, allowing you to put your phone and other necessary accessories during the big match.
You can also convert the main compartment into a temporary shelf so it can be easier for you to access your gear.
Bag Space
Rawlings R1000 Equipment Bag has its designated semi-hard glove crip for extra storage for gloves. There are also a couple of fleece-lined pockets which will offer ample space for your gadgets and other personal belongings.
Comfort
There is an external space for drying out your shoes, so they don't smell bad. Also, the backpack is well-balanced. It's designed to distribute the overall weight evenly all around the backpack, making it easier to carry.
Pros
There is a separate glove storage which provides additional safety.
Side pockets separate shoes from mixing with other gears and accessories.
Hidden magnet works as a headphone space.
Cons
A little bit expensive.
Elastic is missing in newer bat pockets.
3. PowerNet Softball Equipment Backpack

Specifications
Gear hauler.
Hanging hooks.
5 additional zippered pockets.
Trolley sleeve.
Multiple metal hooks.
2 fabric strips.
When it comes to a combination of larger space, durability, and lightweight in a single backpack, PowerNet Softball Equipment Backpack is surely one of the best.
The best part of this softball backpack is you can temporarily remove the divider to make a larger space. Besides, a vented lower section provides a space for your shoes.
In addition, you'll love that PowerNet Softball Equipment Backpack will provide you with a backpack and rolling, which will help you organize your gear and make your move easier than ever.
Bag Space
Zipped and mesh pockets will enable you to keep all your gear in a secured and organized way. Dual bat sleeves and a dedicated slot doe helmet put it ahead of other brands.
Comfort
The zippers are made for heavy-duty purposes, and you can use them for years without any kink. Its fabric is of high quality making it softer.
Pros
Adjustable shoulder straps and padded back and shoulder to ensure maximum comfort.
This backpack is designed in a way that will help to dry out your helmet quickly between practice and matches.
Huge primary compartment.
Cons
Bat straps, at times, can scratch your forearms.
Small side pockets for a water bottle.
4. Boombah Rolling Superpack

Specifications
Big heavy-duty super pack wheels.
J-hooks.
Telescopic adjustable handles.
Waterproof fabric.
Boombah Rolling Superpack is best known for its stability and long-lasting service. It's much more convenient, too. You can place as many as four softball or baseball bats in separate bat holders.
This backpack is sturdy, preventing all sorts of scratches, tears, etc. The backpack and the bat sleeves are quite waterproof, which is why you can expect its service for an extended period of time.
Bag Space
Your shoes can, at times, be dirty. Boombah Rolling Superpack provides a dedicated slot for shoes to protect other gear from the dust of the shoes. There are also some external mini pockets to keep small items and accessories.
Comfort
A valuable option of this bag is j-jooks which makes the bag attach easily to the fence. Besides, young players may find it quite handy as they can position its telescopic handles 4 inches shorter than the standard height.
Pros
2 bat compartments and 4 bat capacity.
Detachable pocket.
Excellent zipper and fabric quality.
The handles pull out to provide some additional control.
Cons
A little bit small. Can't fit too many gears.
5. Easton GAME READY Backpack

Specifications
Vented main compartment.
Mesh pockets.
Personal zippered pockets.
Fence hook.
Easton GAME READY Backpack is loaded with lots of features. It is extremely nice and convenient to use. It's specially built for the players of intermediate level.
Two mesh side pockets store your gloves, masks, helmets, etc. You can use the front pocket if you want to keep some of your personal belongings separate from other gear.
Bag Space
It's a relatively bigger bag and can perfectly store all sorts of equipment. There is ample space to keep your bats, cleats, water bottles, and other accessories.
Comfort
There should be no question regarding the comfortability of the backpack as it's built on high-quality materials and padded back & shoulder straps.
Pros
Enough storage in the main compartment.
Couple of mesh side pockets.
Personalized zippered front pocket.
Fence hook will keep your backpack off the surface.
Cons
No room for storage clipboard.
6. MATEIN Baseball Backpack

Specifications
Cooler pocket.
Bat & helmet holder.
34L capacity.
Strong 600D tear-resistant oxford fabric and polyester.
1.2 LB weight.
Long-lasting zippers.
Doesn't matter whether you are a boy, youth, adult, male or female; the universal MATEIN Baseball Backpack can support every kind of player in every kind of activity, especially in baseball and softball.
A special compartment includes 2 venting holes designed for cleats, ensuring that any bad smell never comes out of your backpack. It is pretty lightweight, too. 
Bag Space
The bag has different dimensions for people of different ages. Numerous hidden pockets, side pockets, mesh pockets, a spacious compartment; what's not in there? If you carry helmets, you can always use the front bungees.
Comfort
Side straps if the bat will ensure the bat straightens and remains in its place so that you won't get hurt while carrying it. This backpack is so lightweight that even your younger siblings can use it. The soft, breathable sponge will make your sports life easier than ever!
Pros
Lots of functional pockets to carry all the gear required.
A couple of ventilated holes will ensure your cleats are clean & dry for the big games.
Tear resistant.
Elastic bungee cord holder, which you can use according to your needs.
Cons
Bat holder is a bit tight, and at times it can be difficult to put it into the pocket.
7. Louisville Slugger Genuine Stick Pack

Specifications
Main compartment for gears.
Zippered hidden mini pockets.
Foam padded straps for shoulder and back.
Two bat sleeves.
If you are a serious softball player looking for a strong, adjustable backpack with a decent look, Louisville Slugger Genuine Stick Pack won't disappoint you.
On the two side pouches, you can easily put two softball bats. It will also fit both helmets as well as gloves inside. It also comes with a decent size hook which will help in order to make it hang in the dugout.
Bag Space
This backpack is quite versatile. It has storage pockets where you can put all the necessary items. Space sometimes can be not large enough for adult softball players.
Comfort
Louisville Slugger Genuine Stick Pack is quite a strong, versatile, and adjustable backup. Its foam-padded shoulder straps provide enough comfort to carry the bag onto the field.
Pros
Strong & Durable.
Comfortable size for young softball players.
Fence hook.
Stick pack along with two bat sleeves.
Available in many colors.
Cons
Relatively smaller in size.
8. Athletico Baseball Bat Bag

Specifications
Waterproof fabric and rugged durability.
Strong nylon fabric, polyester.
Ergonomic fit.
The ventilation system in pockets and back.
Double bat pockets.
Athletico Baseball Bat Bag is a one bag fits all type of backpack. It's designed for all types of people for versatile purposes.
Its huge space and ergonomic fit for better walking or cycle riding make it way superior to other backpacks.
It also has adjustable straps to provide you with the ultimate comfort. Strong nylon fabric, as well as polyester, offers you to use it even in extreme conditions.
Bag Space
This backpack is specially designed to allow you the maximum possible space; from helmet to gloves, catcher's mitt, and water bottle, you can put anything. There is also an isolated shoe compartment to keep your gear neat and clean.
Comfort
Athletico Baseball Bat Bag has two adjustable shoulder straps that are padded and offer ergonomic support while walking or riding a bicycle. Thus it provides a significant amount of lumber protection.
Pros
Velcro batting glove strip.
Strong metal hardware.
Dedicated bungee storage.
Mobile pocket.
Default fence hook.
Cons
Mesh bat liners can start getting ripped after some time.
9. Franklin Sports Baseball Bat Bag

Specifications
Front and top access pocket.
Padded straps.
Zipped pockets.
Top side mesh airflow.
J-style fence hook.
Franklin Sports Baseball Bat Bag can be a value for money because of its strong built-in design and durability.
A hook inside the top of the bag provides an excellent option for hanging the backpack on the dugout. The bag is quite roomy, where you can fit all your important baseball gear. It's lightweight, and the stitching is perfect.
Bag Space
There is a large main compartment to keep your gloves, cleats, masks, and other necessary accessories. In addition, there is ventilation in the top mesh for drying the cleats and gloves after the practice sessions and games. This backpack will also offer you a convenient j style fence hook.
Comfort
The backpack shoulder straps are quite soft and have extended carrying time. There is also easy access to the bat storage, storing multiple bats. Its lightweight will be an added benefit while carrying.
Pros
Top side mesh ventilation.
Larger space.
Quality look and sturdy material.
10. Tolaccea Youth Baseball Backpack

Specifications
High-density fabric.
Waterproof polyester
4 extra space compartments.
Padded elastic straps as well as heavy-duty buckles.
Mesh side belts and pockets.
Tolaccea Youth Baseball Backpack comes with lots of functional pockets and a larger opening providing enough space for notebooks, clothes, and other accessories. Because of its trolley strap, you can also use it on your vacation!
It also has back pockets to store your mobile, keys, glasses, etc. Its lockable zippers provide ultimate protection to your gears by saving them from losing.
Bag Space
Tolaccea Youth Baseball Backpack has lots of space to use for placing all types of sports gear. There is a designated compartment for keeping your notebook. It also comes with 4 storage compartments. The large opening is quite friendly for quickly putting in gears and taking them out.
Comfort
Because of its breathable fabric combined with cushion and mesh, the Tolaccea Youth Baseball Backpack will provide a supreme level of comfort to you by relieving pressure from the back.
Pros
Lightweight.
Longer useful life.
Huge capacity.
Spacious opening.
Cons
Average quality of zippers.
Buying Guides for Best Softball Bags
Selecting & buying a perfect softball bag is not easy. Especially when you consider the specs with your requirements, it'll become a real challenge. Therefore, you need to consider some factors that will help you choose the best value-for-money softball bags.
Bag Space
The first thing every player considers is the bag space. Gloves, helmets, softball cleats, bats, and balls must be put into the bag. Therefore, it must have enough space to hold them and keep them safe. You may also consider the separated shoe space or pocket. It'll help to keep an extra pair of shoes.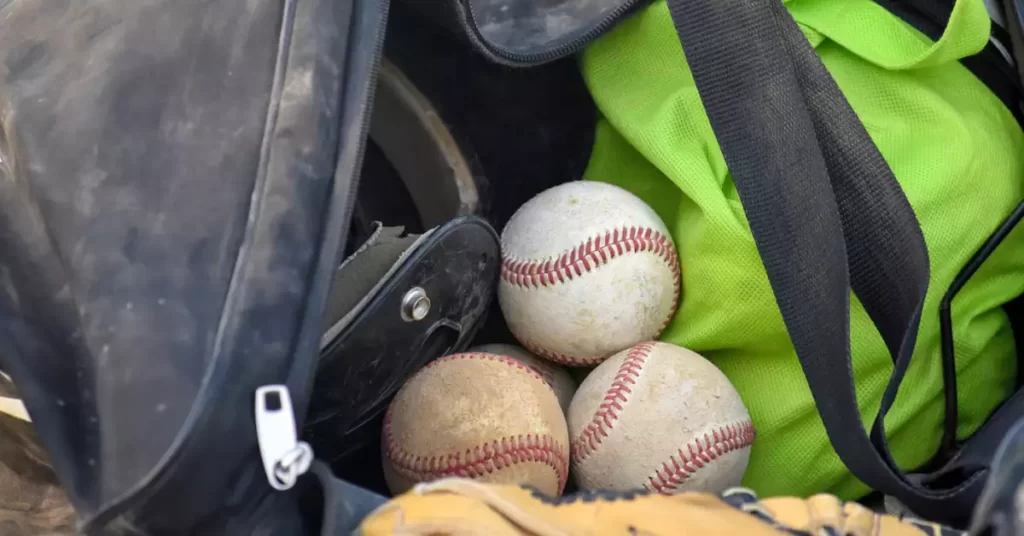 Materials
Another crucial factor is the material itself. It could be nylon, polyester, or waterproof fabric. Besides, the zippers must be sturdy enough to use for a long time. So, you must consider the fabric quality as well as the zipper quality.
Comfortable Carrying
Although the bag space is the first consideration, you cannot avoid the lightweight softball bag. It's more convenient than a heavy one. The comfortable carrying mostly depends on two factors.
One is the backpack weight, and the other one is padded stripes. Moreover, comfortable carrying is much needed for a daylong practice or a short match because you need to wear the stuff.
If you are looking for an alternative to carrying a softball bag, you may consider using a wagon. With a softball wagon, you can easily transport all your equipment to and from the field, without having to carry a heavy bag on your back.
Durability
No one buys a softball bag for a single year or a couple of months. Everyone wants to use it for a couple of years. That's why you need to look at the materials and see if it has any reviews or what the users are saying about the durability.
What Do Players Put in Baseball/Softball Bags?
Baseball and softball players usually carry a variety of items in their bags to help them prepare for and play in games. Some of the common items that players put in their baseball/softball bags include:
Gloves: Most players will carry at least one glove, and some may carry multiple gloves, such as a fielding glove and a first baseman's mitt.
Batting gloves: These gloves are designed to improve the grip on the bat and protect the hands from blisters.
Helmets: Batters are required to wear helmets for safety reasons, and some players may carry their own helmets in their bags.
Bats: Players may carry one or more bats, depending on their position and personal preferences.
Cleats: Baseball and softball shoes with cleats on the bottom provide traction on the field.
Uniforms: Players will often carry multiple sets of uniforms, including jerseys, pants, and socks.
Protective gear: Catchers will typically carry additional gear, such as shin guards, chest protectors, and a mask.
Sunscreen and insect repellent: These items are useful for games played in hot and sunny conditions.
Water bottles and snacks: Players will often carry their own water bottles and snacks to stay hydrated and fueled during the game.
First aid kit: Basic first aid supplies such as band-aids, antiseptic wipes, and pain relief medication may also be included in the bag.
Final Verdict
I've shown you the 10 best softball bags for different purposes. All of them have different features and reasons for being selected. You may compare them and try to find your own fit.
However, considering the buying guidelines and other factors, Easton Walk-Off IV Backpack is an all-in-one softball bag for players. It has enough space and quality to be considered. You may go for it if the pocket size doesn't bother you.
If you are looking for a competitive softball bag for young players, you might go for the Rawlings R1000 Equipment Bag. It has the compact size to become a perfect backpack to carry softball essentials.