For how long have you been involved in "Fastpitch Softball"? I'm guessing long enough to understand why this sport is so popular.
While Fastpitch Softball shares many similarities with baseball, there are some distinctions, such as underhand pitching, quicker gameplay, smaller fields, and slightly smaller-sized bats. These differences make the sport unique and appealing to a wide range of players.
Fastpitch Softball emphasizes techniques, coordination, teamwork, and more action-packed plays. It is an accessible sport for beginners, making it a popular choice for clubs, college communities, and women's leagues.
Regardless of whether you're playing Fastpitch Softball or baseball, protective gear and equipment are essential for minimizing risks and enhancing your performance. One such crucial piece of equipment is the glove.
In this article, I've compiled all the necessary information, factors, features, and tips related to Fastpitch Softball gloves. I've also included a list of the 10 best Fastpitch Softball gloves to consider for your upcoming games. So let's dive in and learn more about these essential tools of the trade.
Rest assured, I've also included a comprehensive buying guide to help you make an informed decision when choosing the perfect Fastpitch Softball glove.
Types of Gloves Softball Players Pursue
Gloves may vary depending on the specific needs and positions of the players. In addition to the glove's length, design, and style, it's essential to determine whether the glove is suitable for your playing position.
I've categorized the various types of gloves to give you a better understanding of their differences and help you make an informed decision. So let's explore these glove types in detail.
Catcher's Mitt
Catchers play a crucial role in Fastpitch Softball, often determining the game's outcome by preventing runs. Their position can be challenging, which is why they require specialized gloves called Catcher's Mitts. These gloves feature a deep pocket with no individual finger slots, designed to protect the hand from high-velocity balls and absorb the impact.
Catcher's Mitts are measured differently from other gloves, focusing on the circumference to provide an accurate representation of the catching area. Standard sizes range from 29.5 to 35 inches.
Pitcher's Gloves
Unlike the other position players in Softball, pitch-holding players don't require specialized featured gloves. All that matters is the capability and tendency to hide the ball. Besides, the comfort zone also matters here. 
Pitchers are well-trained in suppressing the ball and not revealing it to the batters. Also, to not let go of the pitch before the batters initiate their motion. Therefore, pitchers often pursue sealed webbing gloves rather than open ones.
Batsmen Gloves
For batters in Fastpitch Softball, the primary requirements for gloves are better grip, comfort, and performance enhancement. Batter's gloves feature padding to protect hands and fingers from injury due to high-velocity balls. They also come with soft, anti-blister leather to prevent blisters.
First Baseman Gloves
First Baseman gloves are similar to Catcher's Mitts, but they have specific size restrictions – no longer than 13 inches (top to bottom) and 8 inches in width (across the palm area). These gloves have relatively shallow pockets, allowing players to transfer the ball quickly between hands. Padding is minimal, and the gloves typically measure between 11.5 and 13 inches.
Outfield Gloves
Outfield gloves are designed for aggressive players who need to catch fly balls or make diving plays. These gloves have more padding than other types, ensuring the safety of the fingers and palms during high-impact plays. Outfield gloves feature a deeper, larger pocket to accommodate the larger softball size and prevent the ball from bouncing out. Sizes for outfield gloves generally range from 9 to 15 inches.
Infield Gloves
Infield gloves are used by players at second, third base, and shortstop positions, as well as utility players who play multiple positions. There are no strict size requirements for these gloves, as some players prefer larger gloves, while others opt for smaller ones.
These are the main types of gloves used by Fastpitch Softball players. Now that you can identify which glove best suits your position, it's also essential to learn how to maintain your glove for long-lasting use. We'll cover this topic in the next section of this article.
10 Best Softball Gloves You Must Pursue
As you know how to pick the precise brand new gloves according to your requirements, here is a list of the ten best softball gloves that would accompany your specs. Before we go, let me clarify that these are not my picks. They are all preferred and referred by experienced softball enthusiasts who have been on the field for ages. 
So, I suggest you get ready with your wallet as you are about to get your desired gloves from this list today, I promise. 
1# Rawlings womens Infield/Outfield Gloves

Specifications
For Infielders, outfielders, and pitchers
12.5 inches in Size
Long Lasting Pocket
Avid to Professional Players
Full-Grain Leather
Professional softball players intend to play with Full-Grain leather gloves. Indeed, it is inside their comfort and flexible zone. Somewhat, Rawlings Liberty Advanced Softball Gloves come with 80% break-in completion. You only need to snug your hand inside it and go for the play. 
This Liberty glove is mainly tailored for female softball enthusiasts with the most precise balance specifications. The double web bar makes it easy to navigate the ball and enhances its durability. Furthermore, Rawlings took safety more seriously and provided the XRD Pads of Poron. Let's check its specs; what else it offers?
Best Suited Position
Rawlings Liberty Advanced is mostly for Pitchers, Outfielders, and infielders. They are designed and tailored to serve their optimum quality while you aim to catch the ball. Their balancing and comfort will endure high pace ball impacts without losing the comfort. 
Style and Fitting
The 12.5″ inches size allows them to easily fit almost all-sized hands without leaving any space over and around the fingers. Moreover, the pull-strap closures make it more adjustable according to your hand size and prevent the hassle of wearing and taking off the glove again and again.
Pros
Adjustable Pull-Strap Closures
Quicker Break-In
Comfortability
Cons
It starts to lose its durability if not adequately maintained
2# WILSON 2022 A2000 Fastpitch Softball Glove

Specifications
12.5″ inches in Size
For Pitchers, Infielders, and Outfielders
SuperSkin Lightweight Leather
Pro Stock Leather in the Plam
Rolled Dual Welting
Spin Control Technology
"Wilson" is the ultimate legendary brand for baseball and softball sports. If you are into Baseball sports, I bet you already know Wilson. A2000 is their new series that holds an insane amount of features. Its SuperSkin Lightweight Leather makes it the most durable and lightweight glove on this list. 
The sturdiness of the SuperSkin Leather ensures 1000x better grip. Wilson 2022 A2000 includes deeper pockets for better cupping balls. It also has the Drawstring Wrist Closure for better adjustment. You know what? I better order this right now to enhance my catching performance in my next match. 
Best Suited Positions
Like the Rawlings, the Wilson A2000 2022 series is also designed for pitchers, outfielders, and infielders. Wilson's Spin Control Technology prevents the high-pace ball from spinning even after it's in the glove's pocket. The dimpled pattern of the Pro Stock Leather instantly stops the ball's rotation with its friction. Therefore, it is a win-win glove for the catchers, even if they play aggressively. 
Style and Fitting
Apart from its Dual Welting of different leathers in this glove's front and back, it beats its mere cosmetic effect with its outlook. It is also 12.5 inches, which fits almost every regular-sized hand. On the other hand, Wilson included their Drawstring Wrist Closure, which will help you adjust the glove fitting according to your hand size.
Pros
Enhances the Catching performance
Lightweight SuperSkin Leather
Pro-Stock Leather on Palm ensures Rugged Durability
Easy to Maintain and Clean
Moisture-Resistant
Cons
It takes a bit of time to Break-In
3# Mizuno MVP Prime Fastpitch Softball Gloves

Specifications
Designed for Female Athletes
Hand-Crafted Bio-Soft Leather
12.5 inches in Size
Rugged Silicon Patch
Available in Grey, White, and Black
Considering your budget, why not find a glove that fits every requirement but is affordable? Well, it looks like I've found one. It is none other than the Mizuno MVP Prime. But unfortunately, MVP Prime is designed for women athletes. 
Besides that, the bio-leather of this glove is entirely hand-crafted. It makes the glove super-smooth and the best fit in its comfort zone. Furthermore, the hand-crafted Leather also makes it last longer. 
Best Suited Position
According to my research intel, I have found that Mizuno MVP Prime is for those who play on Infields and Pitches. Apart from that, females who have been into softball for a long time can use this glove. Even if they are new to softball, Mizuno MVP Prime is highly recommended. 
Size and Fitting
Besides its specialties and characteristics, MVP Prime is also considered the universal fitting for every player. They wrap up to 12.5 inches in Size. Moreover, the padding makes it much smoother to snug your hand inside and pull it out. Sadly, it's a bit hard to break in initially, but once it gets out of its boundary, it's ready to go delicate and lovely.
Pros
Affordable in Price
Female Oriented
Long Lasting Leathers
Cons
Very stiff and time taking to break in
4# Easton Fastpitch Softball First Base Glove

Specifications
USA Steer Hide Leather
Adjustable Quantum Closure System
13 inches in Size
Oriented for Fastpitch Players
Now then, you know a lot of best-suited gloves for pitchers, infielders, and outfielders. Well, here goes another one mainly oriented for only Fastpitch athletes. The Easton Professional Gloves come with intensive premium quality materials, including the Steer Hide leather of the USA. Apart from that, the laces are of rawhide USA-Tanned with professional grade.
Moreover, this elite-level glove also includes a system of quantum closure. It ensures a secure, tight fit for the user without falling off from the high pace ball impacts. And as it includes the Steer Hide leather, you can already guess it will last season after season. 
Best Suited Position
Since their hyped-up match, enthusiasts fond of softball or baseball know Easton's D1 Softball Team. Fastpitch's position pro-style players use these Easton Professional Collection gloves for their best performance. Do you also play in this position? If yes, I suggest you take out the full benefit of this Easton Professional Glove. 
Size and Fitting
USA pro-grade Steer Hide leather ensures complete fitting and comfort for almost all sized hands. Yet, it comes 13 inches in Size. On the other hand, the quantum closure system with rawhide laces also makes it adjustable for short hands. The optimum control system with secure fitting plays a prime part in this glove.
Pros
Leather quality ensures longevity
Adjustable closures enhance its fitting.
Moisture Wicking Wrist Lining Pad
Cons
Pretty Stiff on Break-In Period and Takes Longer Time
5# Rawlings Fastpitch Softball First Base Glove

Specification
12.5 Inches in Size 
Suited for Avid to Professional Players
Steer Hide Leather
Comfortable, Durable, and Strong
Pro-Grade Leather Laces
If you are more into believing expensive things come with expensive values, then Rawlings Heart of the Tide won't defeat your expectations. They are the most expensive glove in the present market. But then, they also include many value-for-money features. Undoubtedly, you will get to see this glove on any of the professional competitive player's hands. 
Having the 12.5 inches size, Rawlings Heart of the Hide can ensure better stretch plays with much more comfort. It also includes better stability around the stall areas of our fingers. Thus, it won't bend back even if high pace ball impacts right at it. Indeed, that is what players hate the most. 
Best Suited Position 
Heart of the Hide is oriented for the first base and pitch players. First-base gloves are mostly cross-wise between the fielders and the catcher's mitt. Therefore, they come with a few strong characteristics. On the other hand, they are also versatile so that any stroked balls that come in between while fielding in first base, then players can efficiently deal with it.
Sizing and Fitting 
Rawlings Heart of the Hide also arrives at 12.5 inches in size, like the Wilson A2000. It also has a customized fitting feature, including pull-strap closures. Therefore, you can easily snag your hand inside the glove and pull them out with a lot of ease. Besides, it arrives with a 40% break-in from the factory. You have to complete the rest 60%. Still, isn't it convenient?
Pros
Comfortable and lasts longer
Padding around the Thumb Sleeve
Beginner to Professional Players can Use
Cons
It takes a bit of practice to Break-In
6# Louisville Slugger LXT Infield Fastpitch Glove

Specifications
Dual Post Web
Adjustable Wrist Strap
Female-Specific Patterns
The leather of Full-Grain Steerhide
11.75″ inches in Size
You have reviewed all the legendary gloves for professional enthusiasts and female athletes. Louisville Slugger LXT is slightly smaller and oriented mainly toward young or beginner softball players. Yet, the adjustable features can also make it up for you. 
Louisville Slugger LXT Gloves are designed and tailored with the leather of Full-Grain Steer Hide. If you don't know about Full-Grain Steer Hide, scroll slightly above for complete knowledge. Besides that, this glove's black and golden color combination gives it a sleek look that every player craves. 
Best Suited Position
LXT is indeed the classiest Fastpitch glove recommended by most top players. Besides, the double oil leather coat makes the glove last longer by not demolishing the comfort zone. So, if you are a Fastpitch player who just started learning or playing professionally, go for Louisville LXT Gloves for a hassle-free experience. 
Size and Fitting
LXT gloves are 11.75″ inches in Size. It also holds an adjustable wrist strap to make it fit and tighten on your hand wrists. Moreover, its softness will make you sweat less while breaking in or playing aggressively. The dual post web also prevents the high pace balls from flicking off your gloves.
Pros
Suited for both Fast and Slow Pitch
It provides good friction to the cup in the ball instantly
Beginner to Professional Players can use
Cons
It feels like Plastic and cheap
7# Mizuno Prime Elite Pitcher/Outfield Softball Glove

Specifications
13″ Inches in Size
Oil Soft Plus Leather
Professional Glove Patterns
Finger Core Technology
Roll Welting
Another fastpitch glove on this list. It's the Mizuno Prime Elite, the "Ultimate FastPitch Hookers." Having the softest leather, they are intended to serve the professional vibe, keeping the user in their satisfying zone. And talking about durability? You'll get to see it once you start using it. 
The more aggressively you play, the better protection it provides. No matter how hard you jump or drag on the ground, it won't let you get a scratch on your fingers because it includes the Finger Core Technology. The flexibility of this glove is about the optimum stage. 
Best Suited For
Including the most professional glove patterns used by high-end softball players, Mizuno Prime Elite serves its best for the first-pitch positions. Every dedicated player demands to have a better controlling feature on their gloves. Well, Mizuno Elite didn't fail to persuade this requirement. 
Size and Fitting
Mizuno Elite is 13″ inches in Size. Therefore, youth to professionals can easily use them. They are already the prime users of this glove. The softness, oil balancing, flexibility, and rugged play performance it provides will uplift you and boost your confidence level.
Pros
Roll Welting → Cleaner and stability on the Fingers side
Breaks In more quickly than the others
No compromise on the comfort and performance
Cons
Less padding in the Palm Area
It can be slightly heavier when it comes to new
8# Franklin Sports Softball Fielding Glove

Specifications
12″ inches in Size
Lightweight Mesh Design
Adjustable Wrist
Quick Break-In
All Ages Compatible
Big Things Come With Expenses. Franklin Sports Windmill Adult Gloves proved it wrong. How? This glove has a regular hand size, so anyone can easily fit it. The lightweight construction makes it more flexible and easy to maneuver. Besides, the break-in period is almost similar to 0. What else do you need?
The dynamics of this glove provide a responsive feel when you grab the ball, eventually making the player more confident to swap the ball. Apart from that, the day-one beginners are derived towards the Franklin Sports Gloves, as they come within the most affordable costs. 
Best Suited Position
Manufacturers mentioned that this glove is best suited for Firstpitch female players. But while I researched, I found that starting from learning gen players to professional end players are using these Franklink Sports Windmill Gloves. Therefore, undoubtedly, it will also go along with your play performance. 
Size and Fitting
The 12″ incheS Franklin Sports Windmill is not specified for any age (according to me). Moreover, you can see them in every training field, in the hands of all ages of trainees. Besides, if it slips off your hands, you can use the wrist adjustment closure to ensure it grips in nicely.
Pros
Dynamic Responsive Feel 
It fits all Age Players
Technical Lightweight Mesh. (Easy to maneuver)
Cons
A ball might bounce off due to the petite pocket size (unless you grip it precisely)
Mitt is made of Plastic
9# Wilson Sporting Goods Flash Fastpitch Glove

Specifications
11.5″ Inches in Size
Synthetic Leather
Purple/Black/Grey color choices
Compatible with Both Baseball and Softball
W/V-Laced Web Closures
Nowadays, the youth gen is getting way too involved in sports. Therefore, iconic industries are primarily pointing towards designing products that are certainly for the new-gen enthusiasts. Wilson Sporting Flash Fastpitch didn't leave behind anything about them. 
Wilson introduced their 2019 series gloves considering the best benefit a player can have on their performance. Starting from their synthetic leather to their comfort makes the glove most suitable for the newly introduced softball athletes.
Best Suited Position
According to the product's intel, Wilson Sporting Goods is for the Fastpitch players, whether you are introducing yourself newly to softballs or you are a professional. Besides, if every pro requires some inside-home gear for their practice sessions, in that case, the Wilson Sporting is an ideal pick. 
Site and Fitting
The 11.5″ inches size of the Wilson Sporting Good Glove is compatible with all ages of athletes. Besides, Wilson also included the W/V-Laced Web Closure to ensure complete fitting on the hand. Therefore, high-speed balls won't make it fall off your hand.
Pros
Best Glove for Practice Session
Youth and Adults Accessible
Easy Maintenance
10# Rawlings Sure Catch Fastpitch Softball Glove

Specifications
12 Inches in Size
Purple/Grey/White Color Combinations
Basket Web Design 
Youth Gen Oriented
Durable and Lightweight
I didn't expect that I have to end the list of softball gloves with the top 2 best gloves for the youth generations. Like the Wilson Goods 2019 Glove, this Rawlings Sure Catch also considers many prime factors that boost young-age athletes. Besides, considering the growing age and practice sessions, buying an expensive glove is not worth it.
While thinking about these facts, I researched the Rawlings Sure Catch. And Yeah! It sure does match every requirement and also beats the price range. This specific glove is for beginners, yet professionals can use it during practice sessions. 
Best Suited Position
Like other multi-position gloves on my list, Rawlings Sure Catch also goes around with Outfielders, Infielders, and Pitchers. Besides, Sure Catch is also Oriented toward newcomers in softballs. The youth generation, who are certainly younger, can make up for the vital usage of it. 
Size and Fitting
Having 12″ inches in Size, Rawlings Sure Catch can grip the hands of every aging athlete. Yet, according to its description, Sure Catch is mainly dedicated to kids who can easily fit in their hands. Besides, the lightweight padding with finger linings and sure catch technology make it more performance-oriented for instant reflex players.
Pros
Affordable Cost
Sure Catch Technology 
Comes with 100% Break-In
Cons
Best for ages 4 to 11. High-End Professional stay away from Rawlings Sure Catch
Prime Elements in Softball Gloves
Have you ever wondered why Fastpitch Softball players use different types of gloves for various positions? You might even ask, "Are there different types of gloves as well?" The answer is yes! We will learn more about this in the next section, but it's essential to understand that gloves feature different components tailored to a player's needs.
These components vary depending on a player's comfort, position, and style. Let's explore the crucial elements that significantly impact a player's performance.
Pockets
Gloves come with varying pocket sizes and depths, depending on the player's position. Some have shallow pockets to facilitate quick ball transfers, while others feature deeper pockets to help outfielders catch balls more effectively.
Webbing
Just like pockets, webbing also depends on a player's style and position. Webbing connects the fingers to the thumb, providing support and control. Outfielders typically use gloves with open webbing to track and release the ball quickly, while pitchers often prefer closed webbing to conceal their grip on the ball from the batter.
Padding
Padding offers comfort and protection from impact pressure and blisters. Fastpitch Softball players generally prefer gloves with durable, high-quality padding. Padding varies depending on the player's position – some gloves have more padding for added protection, while others have minimal padding for increased flexibility and control.
Adjustments
In addition to padding and pockets, gloves should fit snugly and securely on a player's hand throughout the game. If a glove slips off easily, it is not the right fit. Proper adjustment and well-fitting gloves are crucial for optimal performance in Fastpitch Softball.
Back Part
The back design of a glove can affect its overall appearance, mobility, and support. Some players have personal preferences for their glove's back design. Generally, gloves can feature an open or closed back, which can influence support, strength, and speed in ball turnaround. Ultimately, it comes down to personal preference and playing style.
Why are Gloves Essential for Softball?
Gloves play a vital role in Fastpitch Softball, providing numerous benefits and enhancing a player's performance. Understanding why gloves are essential for different positions and how they contribute to the game can help you appreciate their significance. Here are some key aspects to consider:
Protection and Injury Prevention
Gloves offer crucial protection for players' hands and fingers, shielding them from potential injuries during catching, fielding, or batting. The padding and design of softball gloves help absorb the impact of the ball, reducing the risk of bruises, fractures, or sprains. They also help prevent blisters and calluses, ensuring players can maintain a firm grip and perform consistently.
Enhanced Catching Ability
Catching is a fundamental skill in Fastpitch Softball, and gloves significantly improve a player's ability to catch the ball securely. The pocket depth and design of gloves for catchers, pitchers, and fielders are specifically tailored to facilitate ball control and prevent drops. The padding and webbing patterns of gloves allow players to trap the ball effectively and minimize errors in critical game situations.
Improved Grip and Control
Gloves with quality materials and proper fit provide enhanced grip, allowing batters to have better control over the bat during swings. Good grip ensures the bat doesn't slip, resulting in more accurate and powerful hits. Pitchers also benefit from gloves that provide a secure grip on the ball, enabling them to maintain control over their pitches and execute different techniques effectively.
Comfort and Confidence
Comfort is essential in Fastpitch Softball, as it directly influences a player's confidence and performance on the field. Well-fitted gloves made from high-quality materials offer a comfortable feel, allowing players to focus on their game without distractions. When players feel confident and comfortable in their gloves, they can fully concentrate on their skills, contributing to better overall performance.
Specialized Gloves for Different Positions
Different positions in Fastpitch Softball require specific glove designs to meet the unique demands of each role. Catchers' gloves have added padding and a deeper pocket to handle high-speed pitches and protect against impact. Infielders' gloves are typically smaller and more flexible to facilitate quick ball transfers and precise throws. Outfielders' gloves feature larger pockets and longer webbing patterns to assist with catching fly balls and covering more ground.
Essentialities of Softball Gloves Materials
Choosing the right material for your softball gloves is crucial for a comfortable and durable playing experience. Understanding the different materials and their characteristics can help you make an informed decision when selecting your gloves. Here are some essential factors to consider:
1. Genuine Leather: The Preferred Choice
High-quality softball gloves are predominantly made of genuine leather due to its superior comfort and durability.
There are various types of leather used in glove manufacturing, each with its own unique qualities.
Genuine leather gloves offer a natural feel and excellent grip, making them a top choice among professional players.
2. Synthetic Leather: Affordability and Flexibility
If you're looking for a more affordable option, synthetic leather gloves are worth considering.
These gloves offer increased flexibility and ease of use compared to genuine leather gloves.
Synthetic gloves are also easier to clean and maintain, making them a practical choice for players who prioritize convenience.
3. Steer Hide: Durability and Weight
Steer hide is a popular type of leather used in softball gloves due to its exceptional durability.
Although it provides excellent longevity, steer hide gloves tend to be heavier compared to other options.
4. Cowhide Leather: Quick Break-in Period
Cowhide leather gloves are ideal for players who need immediate use without an extensive break-in period.
These gloves require minimal time to adjust to your hand, allowing you to get into the game quickly.
Cowhide leather offers a balance of durability and flexibility, making it a versatile choice for softball players.
5. Full-Grain Leather: Performance and Longevity
Full-grain leather gloves are known for their exceptional stiffness and longevity.
While they require a longer break-in period compared to cowhide gloves, they offer superior performance and durability once broken in.
It's important to note that Full-Grain leather gloves do not come pre-oiled, so you'll need to apply oil yourself for optimal performance.
Remember, professional players and coaches often prefer authentic leather gloves, such as cowhide and Full-Grain leather, for their quality and performance. Ultimately, the choice between genuine leather and synthetic leather will depend on your personal preferences, budget, and desired level of convenience.
Sizing and Fittings Guide for Softball Gloves
Better fittings involve better flexibility usage. Therefore, accurately sized gloves recreate a fundamental position in the player's performance. The wise judgment would be to pick gloves that fit the player's hand with every corner (with no air spaces) and provides a nice grip.
Ensure that you can easily pull the gloves off and smoothly snug your hands and fingers inside them. Besides, the size of the softball gloves relies on many factors, including the player's age, position on the pitch, and many more. 
You can know more about it in the table below.
Point to be noted: The ordinary size range varies from 8 to 15 inches, but for Catcher's mitts, it's 35 inches. 
How can we measure?
When you scale your gloves for precise fitting, ensure you begin from your index finger's tip to the wrist. Then, convert the value to inches for your accurate glove-fitting measurements. However, the chart below encloses the pronounced scales that have been on the thread for a long. 






Apart from this chart, when a glove comes with loose fittings, the high pace balls can make it fall off your hand. And I promise the outcome will not be satisfying. Therefore, gloves that hold your hand easily and provide no harsh feedback are the ideal choice. Next, the padding should be comfortable enough to reduce impact pressure and prevent pain. 
And as we know, softballs come in bigger sizes compared to baseball. Therefore, grabbing the ball with the glove's pocket and then shifting the ball to the other hand for precision throws will certainly get easier if you have your suited scaled gloves. 
Although different position players have different-sized and featured gloves, this is where the variety of gloves comes in, which I mentioned in the "Types of gloves" section above. 
Usually, 11.75″ to 13.00″ is the best size for players beyond 13 years old.
Whereas 31.50″ to 34.50″ is precise for the Catcher's mitts.
Furthermore, gloves with 12.00″ to 13.00″ are usually larger and suited for First Base players.
I hope you might have already known the other specified sizes for certain factors from the above table. 
Concluding this section, deciding the size for your hand is a bit tough choice to make for me, as it varies from person to person. So, rather than that, I mentioned the standard must-follow techniques to conquer the perfect size for your softball gloves. From how you can measure your hand to some usual sizes preferred by official softball members. 
Short Purchasing Guide For Softball Gloves 
Do you know when we encounter the most crucial situation while determining something for ourselves? We need assistance picking the ideal one when we deal with multiple products (of the same type) for identical purposes. The same goes for buying softball gloves. 
And this is why I have crafted a nice buying guide for you. This guide will ensure you all the assets you must consider before you purchase your glove. So, please allow me, sir, to introduce you to all the guides below! Haha! 
Purpose
Before you head into the shop to purchase your brand new gloves, your initial step would be to decide why you need that glove. Like, which position you're an expert in. Next, determine whether you use the right or left hand to catch the ball. Once you decide, now you are ready for the next guide. 
Size and Fitting
A precise size with a solid grip and fit are essential for gloves. Therefore, you must also know the actual measurement of your hand. Above, I have mentioned a section detailing how to scale these measurements. Remember, the glove's size also varies according to your play position. 
Moreover, if you lack the factor of the glove's size and measurements, you might end up providing your worst performance. If you are an infield player, go for its specific decided size. The same goes for the outfield, pitcher, batsman, etc., players. 
Classifying the Features
Softball gloves come with loads of features. For example, some include different wrist adjustment features, whereas some go for pocket depth. It's totally on you what feature you are used to, or you prefer, and what not. On the other hand, you will also find gloves that retain all the characteristics a player requires. Thus, ensure first the glove's characteristics you can obtain. 
Glove's Back
Baseball or softball gloves' back relies on the player's preferences. Although these open and closed features matter in the game, most players still prefer them as their personal choice. I hope you already know how they benefit a player, as I mentioned in the above section of this article. So, I am leaving it to you to decide which is best for you. 
Pocket's Depth
Here is another prime factor you cannot ghost about while selecting your glove. You must obtain a deeper pocket if you want consistent catches in every match. On the contrary, if you are an expert in throwing the ball, shallow pockets should be your choice. Shallower pocket intends to grab the ball and quickly transfer it to the other hand. 
Webbing 
Besides the pocket and back of the gloves, the webbing also relies on the player's play positions. You will find gloves that connect the thumb to the finger. Also, some gloves have no webbing at all. Besides, gloves with six-finger webbing are better for an ideal choice to catch the balls while flying, diving, or even running.
Furthermore, the glove's webbing sometimes matches its name state. Such as, the I-Web includes a shape of an "I." On the other hand, open webbings are always the best option for catching, transferring, and throwing the ball. 
Quality 
The last one on this list is none other than the quality of the Gloves. Well, I don't have to make you understand how quality gloves matter on play fields. Better quality gloves come along with more consistency and longevity. Besides, their durability enhances the player's confidence. 
But remember, quality gloves come with a cost. On the other hand, some quality gloves also come at affordable prices. They might last only a short time than the premium ones, but they are easy to break in and quicker to get used to.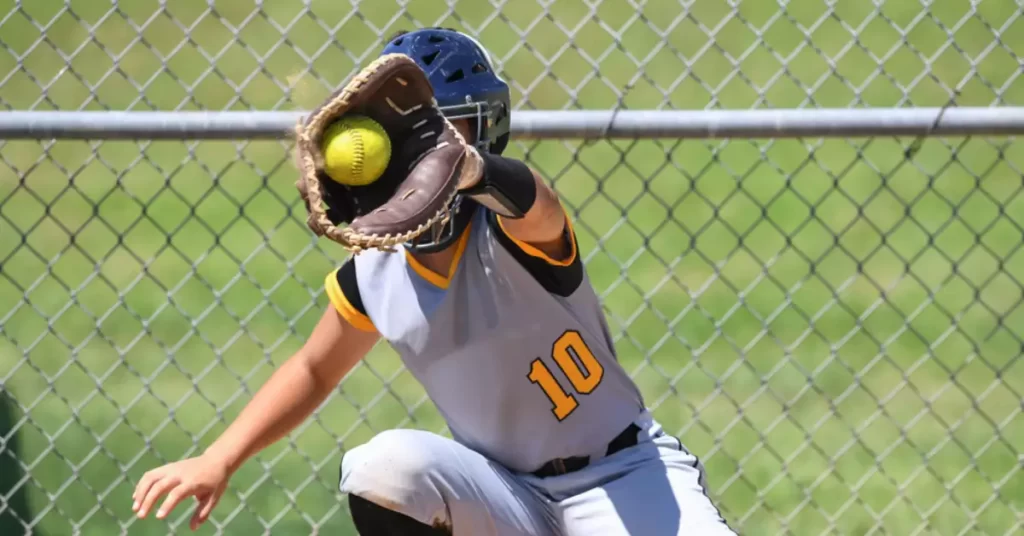 How to Properly Maintain Softball Gloves?
To ensure your softball gloves last longer and perform optimally, it's crucial to maintain them properly. Here are some steps to help you keep your gloves in top condition:
Break in your glove properly
Breaking in your glove ensures it conforms to your hand and provides optimal comfort during gameplay. Use a combination of glove oil or conditioner, repeated bending and flexing, and playing catch to break in the glove. Avoid using excessive heat or moisture, as these can damage the leather.
Keep your glove clean and dry
After each use, wipe off any dirt or debris with a clean, dry cloth. If necessary, use a slightly damp cloth to clean stubborn dirt, but avoid soaking the glove. Allow your glove to air-dry away from direct sunlight and heat sources, which can cause the leather to become stiff and brittle.
Condition your glove regularly
Conditioning your glove helps maintain its flexibility and prevents the leather from drying out and cracking. Use a leather conditioner or glove oil specifically designed for softball gloves, applying it sparingly and following the manufacturer's instructions. Avoid using household oils or products not intended for leather, as these can damage the glove.
Store your glove properly
When not in use, store your glove in a cool, dry place away from direct sunlight and heat. To help maintain its shape, place a softball in the pocket and wrap the glove with a belt or strap. Avoid storing your glove in damp or humid areas, which can cause the leather to deteriorate.
Check for wear and tear
Regularly inspect your glove for signs of wear, such as loose stitching, worn padding, or cracked leather. If you notice any issues, consider having the glove repaired or replaced to ensure optimal performance and safety during games.
Adjust the laces and straps
Over time, the laces and straps on your glove may loosen or stretch. To maintain a snug fit, periodically tighten and adjust the laces and straps according to your preference.
Guidelines to Break In Your New Gloves
Breaking in your new softball glove is essential to ensure optimal performance and comfort during games. Here are some guidelines to help you break in your new gloves effectively and safely:
Start with conditioning
Apply a small amount of glove conditioner or oil specifically designed for softball gloves to the leather. This helps to soften the leather, making it more pliable and easier to break in. Avoid using household oils or products not intended for leather, as these can damage the glove.
Play catch
One of the most effective ways to break in your glove is by playing catch. This process helps the glove conform to your hand and the shape of the ball, allowing for a more comfortable fit during gameplay. Play catch regularly for a few weeks leading up to your first game with the new glove.
Use a glove mallet
A glove mallet is a useful tool for breaking in your glove. Use the mallet to gently strike the pocket and other areas of the glove, mimicking the impact of a caught ball. This process helps to create a more defined pocket and loosens up the leather.
Practice glove shaping
To shape your glove, start by opening and closing it repeatedly. This motion helps to loosen the leather and create a more natural fit. Additionally, wrap a ball in the pocket and secure the glove with a belt or strap when not in use, which helps to maintain the pocket's shape.
Steam your glove (optional)
Some sports stores offer professional glove steaming services, which can help to soften and break in your glove more quickly. If you choose to steam your glove at home, be cautious and follow the manufacturer's instructions to avoid damaging the leather.
Be patient
Breaking in a new glove takes time, so be patient and avoid rushing the process. Using shortcuts like microwaving, soaking, or baking your glove can cause irreparable damage to the leather and result in a less comfortable fit.
Break in the glove gradually
Avoid using your new glove in a game until it's adequately broken in. Using an improperly broken-in glove can result in poor performance and discomfort during play.
Wrapping Up
It Looks like you reached the end of the content. So? How much information could you gather from this article? A lot, right? Indeed, this content was purposely constructed for people who are new or experienced in Softball and want to buy their gloves for their upcoming match. 
If you are one of them, I bet you have already ordered one of these 10 gloves, as they matched your clarifications. In addition, I also tried to load you with enough knowledge regarding softball gloves that you can easily pursue to enhance your fielding performance.